Sam Bass is a former educator and now works in the New Orleans film industry. She is a member of the Local 478 film union and works throughout the year in set dec. She also works as an installation artist and has received several art grants to bring her work to festivals in Louisiana and Miami. After spending a few years working in the Orleans Parish public school system, Sam developed a vision to bring the creative arts to the children of NOLA. Her favorite time of the year is Mardi Gras - she is a member of Krewe de Lune and works on the Krewe's design team for the annual Space Ball. She recently founded a new Krewe called "Krewe Ella de Vil" which premiered at Barkus 2018. Sam uses her background as an artist and educator to grow ArtCamp504 into what it is today.
Syd Kleinberg joined the Art Camp 504 team in 2018 as a Parade Camp Counselor. She's worked with Sam over the last year to develop programming, which allows camp to hire more artists, and welcome more kids. Syd has a BFA in Acting, and extensive background in Theater, ,Puppetry, and Commercial Film Acting. Her most recent work includes Business Development, Marketing Consulting, Launching Venues, and Real Estate. But her true inspiration lies in collaboration, curation, and COSTUMING!
TREI CHAMBERS & MATTI HALLENSTEIN are the co-creators and owners of the @FoxMoxi one of a kind jewelry and clothing company. Since 2015 they've established themselves as staple members of the 619 Palace Art market on Frenchman Street New Orleans, where they showcase their weirs for people across the world. Drawing inspiration from historical relics and worldly mythology, they create one of a kind pieces of wearable art, that tell stories in relation to their up-cycled materials. They enjoy teaching the arts of mixed media jewelry and costume making techniques and its connection to the real world. In doing so they hope to incite the knowledge and importance of using up-cycled resources with our future creators! As well as sharing stories from rummaging adventures!

American artist LINKA A ODOM is a freelance photographer and installation artist. Linka utilizes photography to create one of kind immersive photo light box installations oftentimes hung in outdoor settings including found trees. Ms. Odom's installations have traveled to events and festivals all over the world. Odom's interest in photography stems from a childhood filled with creek walking and exploration. Her images explore our world, with a focus on unique cultures and the surreal. Linka's work is driven to influence a culture of acceptance, encouraging the viewer to reflect and ultimately gain insight on the interconnection amongst all things. Ms. Odom has earned both an M.A. in Photojournalism and Documentary Photography from the Univ. of the Arts London College of Communication, 2012 and a B.F.A. in Photography from NYU's Tisch School of the Arts, 1997. Linka is a full-time freelance photographer based in New Orleans, LA.
KAT HOBAN is an artist, youth leader and gardener at 24 Carrot Garden in the St Roch neighborhood. She has a decade of experience in farming and gardening and is a compost enthusiast. She is passionate about teaching children and young adults about the importance of nutrition and knowing where our food comes from.
PEDRO LUCERO is an award-winning producer. For the last two decades, Pedro Lucero has been a part of the New Orleans film industry, working behind the scenes, in front of the camera, and carving out any kind of hustle to get movies made in the thriving city of New Orleans. Getting his start in the theater at an early age, Pedro learned quick timing and discovered an acute sense of what makes a scene move. This taste of acting gave him the fever for creating worlds, challenging norms and striving to see a multitude of projects get made. Pedro has taught film at different levels, from middle school to college, at Dillard University, Sci High, and 4.0 Schools Enriched. Pedro has also been an integral part of various film and music festivals across Louisiana, and even Austin, Texas. Having written, directed, and produced, Pedro's work can be seen all across a swath of outlets including film, television, and the web.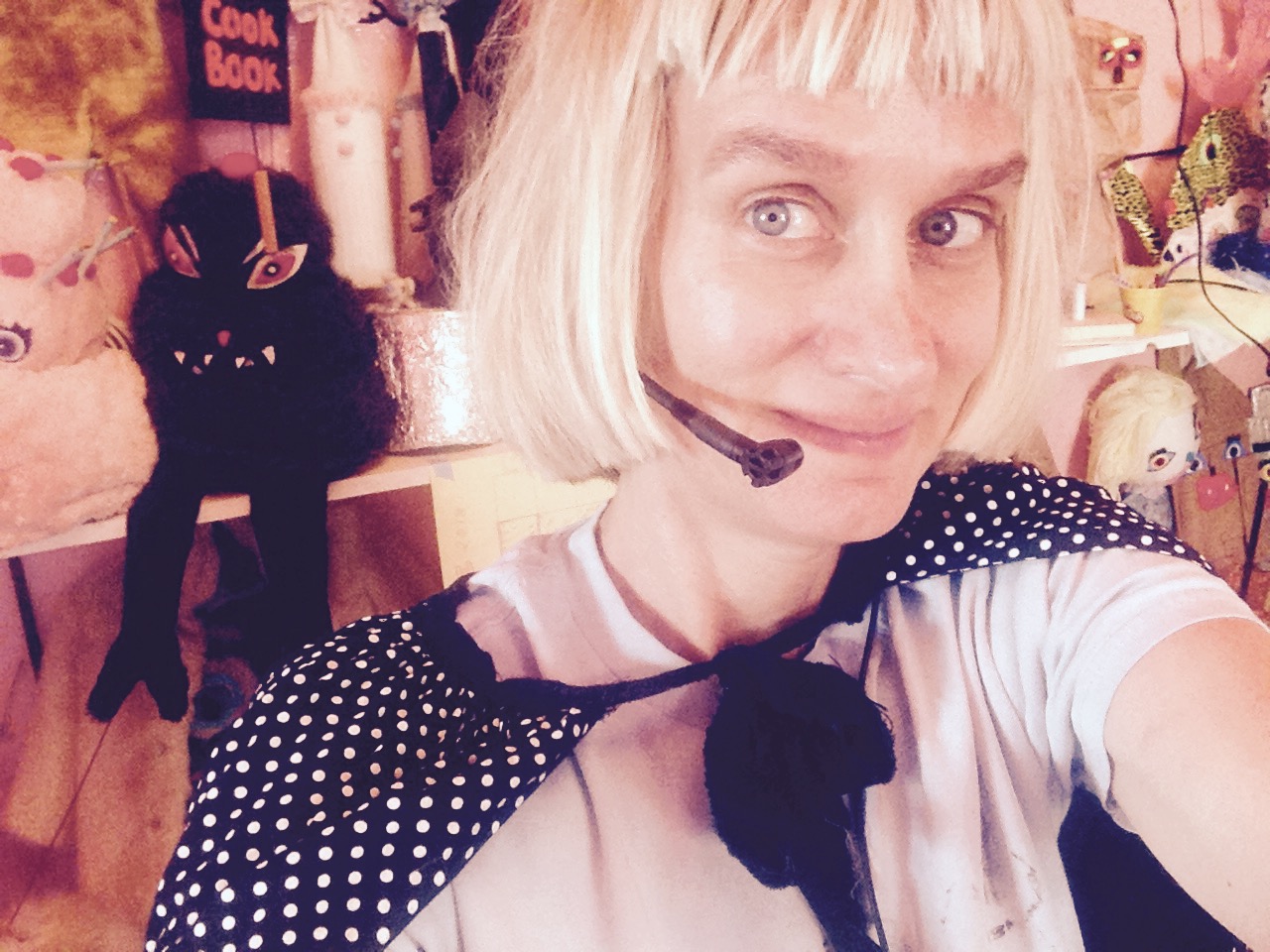 MISS PUSSYCAT is one half of the duo Quintron and Miss Pussycat, who travel over all the world performing live puppet shows and playing music in rock clubs, music festivals, and secret club houses. She also makes puppet movies and videos, and is always happy to bring puppetry into the pantheon of contemporary art, as well as the subculture of underground music.
MADELEINE KELLY is a local artist and educator who has been teaching Visual Art for over 10 years to children and adults of all ages in school and art studio settings. She has developed curricula for many age groups, and most recently developed the Visual Art program, including a unique Mural Arts course, at ReNew Accelerated High School in New Orleans where she has been teaching for the last 6 years. She earned her BA in Art History/Arts Management and Fine Arts at the University of San Francisco. During her time in the Bay Area, she interned with renowned muralist collective Precita Eyes and learned community mural techniques from their artists and organizers. She currently works with acrylic and her individual and collaborative paintings explore social and spiritual topics and a wide range of artistic influences.
REESE JOHANSON is a producer, performing artist, writer and fundraiser for the arts. Graduating from the National Shakespeare Conservatory NYC, she was inspired by the physical theater techniques, "Footfalls", under Joan Evans. She was a company member of Chard Gonzalez Dance Theatre for 5 years. In 2012 Reese Johanson Collective emerged producing the ambulatory, UNROUTE, and award nominated shows, Flashback and THEY DON'T EAT CORN HERE, among others. She is a featured columnist with Art + Design Magazine. In REBOMIJO she merges live music, poetry and dance with Susan Millar Boldissar, and with Daneeta Jackson in DJ/RJ Co-Lab, theatre, dance, and film interact. She was a teaching artist with KIDsmART, is a teaching artist at Upturn Arts and Music Box. Most recently she has opened the Art Klub, an arts and community center in the St. Roch neighborhood of New Orleans where she offers is a platform for creative expression in all ways.
JEFF CHITEK, known to our campers as Captain Jeff, has over two decades of experience playing outside. He has a degree in Nature Based Tourism, which is an organized way of saying he specializes in fun. His company New Orleans Kayak Swamp Tours leads groups into Louisiana's beautiful swamps and wetlands via kayak, educating them on the importance of this threatened and disappearing landscape. He has spent several years leading tours and hiking adventures for the Boy Scouts. His mission is to ignite individual's passion and interest in the outdoors in hopes that the contagion reaches the masses. The great outdoors is his classroom, from plant and animal identification and foraging, to ecology and geology...education is best received under the sun with fresh air.
Charlotte "Rocharlotte" Raphael is the owner of Uniquely Rocharlotte LLC. She works as a Costume Designer, Wardrobe Stylist, Body Painter, and Visual Artist for various films, television shows, theater productions, concerts, and live performances. She has designed for Le Petit Theatre, Southern Repertory Theatre, Marigny Opera Ballet, Perry Mansfield School for Performing Arts, and several film companies. She has a Bachelor of Arts degree from Louisiana State University where she studied Theater concentrating on design and technology. She is a native Louisianan and has been calling New Orleans home since 2012.
Kirah Haubrich has been creatively involved in the New Orleans art world for 20 years. She created the Big Top Arts Education Center, which provided the community a top notch summer art camp program for 11 years. She is also co-creator of the Intergalactic Krewe of Chewbacchus. Kirah studied under paper maker Kathleen Hayek of NYC/ Upstate NY fame. She infuses her love of books and creative writing in her paper making class, encouraging her students to create physically as well as exercising their imaginations.
Ryuta Iwashita (they/them) is a movement/performance artist and educator whose fundamental inspiration derives from their practice of Contact Improvisation (CI). CI is an improvised movement form wherein two or more people move in relation to momentum, gravity and weight sharing, which has been influential for dancers and other performing artists for almost 50 years. With their experience in martial arts and various meditation practices, they consider CI as a highly restorative and therapeutic self-awareness practice. They have taught movement workshops in Japan and China and now teach here in New Orleans. Their classes are designed for both trained dancers and non-trained dancers who seek out their physical and spiritual well-being through movement.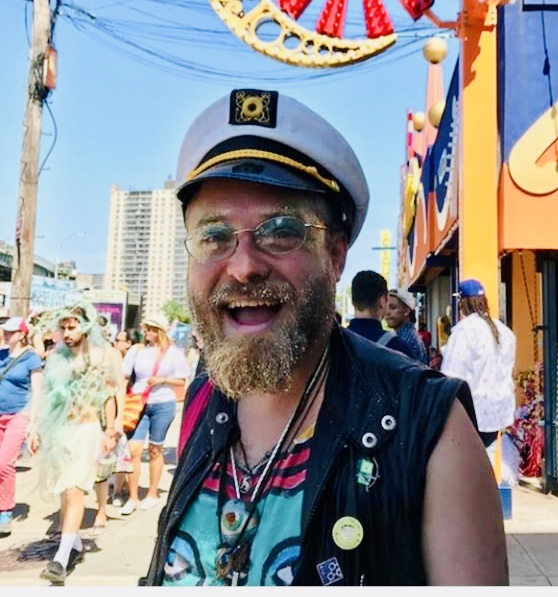 ASA JONES is a professional illustrator and mural artist from Brooklyn, NY, where he graduated in illustration from the Pratt Institute. He has taught at elementary schools across the country and has written several children's and grown up books and comics as well as concert and album artwork for decades. He has lived here in New Orleans for 9 years and is proud to call it home!

JENNY BLOW is a life long resident of Louisiana and a mother of 3 busy children. She grew up running through green houses on her grandmother's 30 acre nursery and her family's vast farm. After graduating college with a Masters Degree in Sociology / Minor in Art History, she embarked on a painting career which blossomed into a gallery director position which kept her busy for 18 years. She is currently a freelance artist and avid gardener. She has worked with children as long as she has ran through gardens. She looks forward to sharing the symbiotic relationship of art and plant life with the hope of inspiring children to relish the natural growing world around them.
Cate Swan is a multi-disciplinary artist who has been living and working in New Orleans for the last 10 years. From the moment I was exposed to my first Mardi Gras parade in 2007, I was hooked on the history and performative mechanism of parading. I have been an active member and leader of a sub-krewe in Chewbacchus for the last 4 years, where I have built contraptions, costumes, and throws. I've also marched in a variety of parades with dance krewes and bands over the years, from Krewe du Vieux to Krewe of Boo. What I hope to contribute to Parade Camp is my experience and devotion to Mardi Gras history and traditions, as well as honoring the past culture bearers of this city and encouraging new ones.